Scott L Praegitzer
|
home


Blue Man Group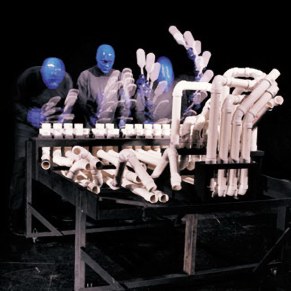 The Blue Man Group is a trio that I knew little about, having only seen them on the commercials for
Intel
. My wife had always talked about wanting to see them (speaking of their theatre show), so when I received the bulletin from the
Rose Quarter
, I took a chance and ordered the tickets right then and there. I had no idea what kind of awesome
show
we would be treated to!
Having been to a few rock and roll shows myself, I could really identify with the themes of the show. Visually stunning, kick ass rockin', and pretty darn humorous too -- it was one of the best shows I have ever seen.
After seeing the BMG live, I was completely blown away. I ended up purchasing both of their CD's, Audio and The Complex. If you like rock music that is very percussive and driving and doesn't quite fit into a particular category -- purchase these CD's. Audio is instrumental only, while The Complex has guest vocalists including Tracy Bonham (who also opened and sang with BMG at the Coliseum,) and Dave Matthews. The Complex is something that I can listen to over and over and not get tired of it.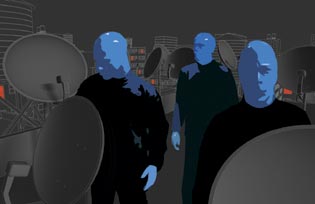 I am excited to learn that BMG will be releasing soon The Complex Rock Tour Live DVD, you can bet I will purchase a copy!
Click the arrow to go back to the CD Listing