Scott L Praegitzer
|
home


Remembering Mom

Long awaited, this is the page I will dedicate to my Mom, Virginia Elaine.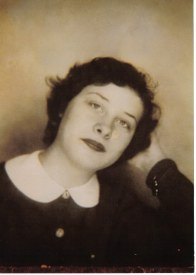 Entry 1: Dealing with the pain
My mom's life must have been filled with pain. She was in a car accident before I was born and was left with a broken back. The doctor told her she should never lift anything heavier than a dinner plate. She had two more children (Kathy & I) and worked very hard all her life making her home a beautiful place for her children to grow up.
In March of 1987, while I was attending a technical school for video production in Dallas, TX, on a Sunday (as I recall) I had what would be the last conversation I would have with the mom I knew. We spoke about a lot of things, more than ever before and I had a warm feeling that my mom was going to be okay. She told me she was looking into going to nursing school, which made me very happy for her.
It was also during this conversation that I told her about inviting my father to my graduation. I never did very well in high school and I never finished the first technical school I went to in Arizona, and I was very proud that I was maintaining a 3.5 average and perfect attendance for my current educational endeavor.
Anyway, my father had told me that he couldn't come because he didn't want his ex-wife and current girlfriend (they weren't married yet) getting into a "cat fight." When I told my mom about this, her mood changed and she became very strange. She said that she would stay home and dad could go instead, she didn't want to come between us. I was very upset at the thought that my father would end up making my mom stay away from my graduation. I didn't tell her that information to have that happen, it was more like "can you believe this guy!"
It was the following Thursday, I had been phoning mom all week and not getting her at home (before answering machines and voice mail), but finally someone answered her phone. It was Kevin, my sisters husband -- he sounded solemn and panicked at the same time. I asked why he was answering my moms phone and he tried as best he could to break the horrible news. Something to the effect that "they found her in the garage." At first I thought it was an accident or something, maybe she fell. But then he said that she was in the car and had the motor running, and that she also had "duct taped" the doors shut. My brother (who lived in town at the time) had to kick the door in, it was also locked. I couldn't believe it, my mother -- who I had just spoken to 4 days before, had attempted suicide.
I felt so helpless, there I was halfway across the country and they were taking my mom to the emergency room. I ended up calling my cousin that lived in Carrollton, TX and asked him what he thought I should do. He told me that he thought I should go immediately as soon as I could to be with her. And so I did.
By the next day I was at the hospital. I was met in the lobby by Ted M., the V.P. of Industrial Relations of my fathers company. He needed to brief me on my mom's condition and what I would see. What I saw should never have to be witnessed by any child seeing the parent. I barely recognized my mother, she looked completely different (in a very bad sense).
This began a very sad time in my life. I never left her side for 24 hours while I was there at the hospital. I was the most difficult thing I had to do up to that point in my life, sitting there with this person who used to be my mother. Seeing her in the state she was in, she had sustained brain damage from the carbon monoxide poisoning. The damage that was done affected her short term memory, so she had to be told things numerous times.
I only spent the weekend and by Monday I was back in Texas and at school. I did my best and continued to maintain a 3.5 average. The school also cleared any absences that I had during that time to help me maintain my record of perfect attendance. A few months later (in July) I graduated and both my Mom and Dad were there to see. But mom was different, she seemed like an empty soul. It made me very sad to see her that way. I tried to put on a good front. I ended up coming home and staying with her to help out, (my sister pretty much single handedly had taken care of her for moms remaining years.) but in October of that same year I decided I needed to leave and go back to Texas for what would end up being a brief 6 month stay.
I returned in April of '88 and moved to Salem, and I am very sorry to say I didn't go and visit my mom very much during the remaining 7 years of her life.
To be continued...