Scott L Praegitzer
|
home


My Family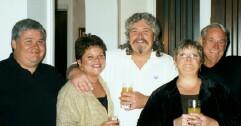 Here is a picture of the family during happier times, from my Grandma Davis' 101st birthday celebration
- from l to r: Yours truly, Kathy, Jeff, Nancy, and Dad

In this area I will pay tribute to my family through pictures and writings.
I will be dedicating a special section especially for M
y Mom
, who passed away in 1996 from ovarian cancer.
Here is a picture my Uncle Edward scanned and sent to all us "kids" -
Jeff, me, Kathy, Nancy and our beloved dearly departed poodle dog - Pete.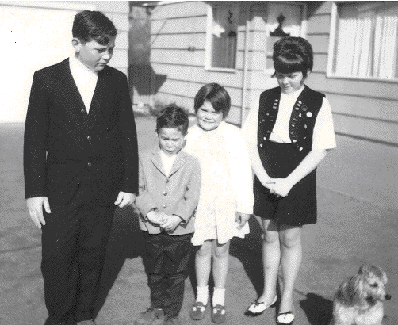 I have been receiving a few emails from Prägitzer's in Germany. I hope to continue to hear from our family across the "big pond," with more information about the family history and genealogy. If you are in Germany and a Prägitzer, and would like to be included in my web page, please send pictures (jpeg or gif) and information to slpraeg@msn.com! Thanks!
I have many new Prägitzer friends on FaceBook now, and some friend requests pending as well. Still hoping to get info on their families.