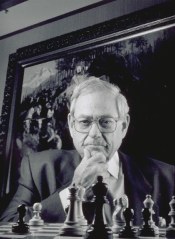 This is my father, Bob Praegitzer - a captain of industry and a pretty nice guy too.

Robert L. "Bob" Praegitzer

August 6, 1931 - June 2, 2005

~

Dad was diagnosed with Viral Lung Cancer in early April and although we had high hopes that he would respond to new treatment options, his other health problems added complications to his recovery. He put up a good fight, and showed his strength and spirit until the very end.

~

He will be missed by all who knew him.

~

Read my story -