Scott L Praegitzer
|
home


Hobbies and Interests

I have recently gotten into reading (of all things); my current author of choice is JAMES PATTERSON, specifically his ALEX CROSS Novels. I started out toward the end of this series with CROSS, DOUBLE CROSS, and CROSS COUNTRY. I also completed his most recent in the series ALEX CROSS'S TRIAL which he co-wrote with RICHARD DILALLO. I am trying collect all of this series in First Edition Hardcover, and I only need to find: ALONG CAME A SPIDER, JACK & JILL, and CAT & MOUSE.

Just received "I, ALEX CROSS" from Amazon last night (11/18/09) so will be starting that one soon!
Another book I have started is the first (self-proclaimed) DIGI-NOVEL by CSI Creator ANTHONY E. ZUIKER; entitled LEVEL 26. It is unique in that it allows the reader to log in to a website to view short movies connected with the story. Admittedly, I kind of lost interest in this one and will have to pick it up again later.
My other reading passions are the CSI and Criminal Minds paperbacks and also the legal thriller novels by John Grisham.

I enjoy writing when the mood strikes me, including poems and short stories. Although I haven't written in quite awhile - I hope to pursue this more seriously in the near future! Most of my writing is very personal so far, but I decided to go ahead and post my first short story. Check it out in my
Writings
section. I would enjoy hearing from anyone else who dabbles in writing. Contact me at slpraeg@msn.com.

I also have a fairly large
music collection
(on CD). I like classic rock, blues, some jazz and classical and also some big band stuff. I haven't counted lately, but I think I have about 700 CD's so far (haven't counted them lately), and still find a few dollars here and there to keep adding to the collection. I have built my collection largely through music clubs such as
BMG
and
Columbia House
. I have recently updated new purchases and added reflections on some
concerts
I have been to!

My most favorite band of all time is The Beatles. I have converted all my Beatles CD's into MP3 files, so I can have them on one disc. I also have invested in portable music players to store my favorite music. I especially enjoy creating "mixes" of similarly themed music.
I am anxious to acquire the newly revamped digital reissue of the Beatles catalog.
(click the image to go to the website)

or go
HERE
to stream KGON LIVE!

I also enjoy golfing

, but don't have the opportunity to go out on the course nearly enough. In the future, I will add some good golf links for some courses I have played - please check back soon! I enjoy playing my favorite computer golf simulation game
Jack Nicklaus Golden Bear Challenge
, because there are many custom courses (as well as one I have designed myself) that can be played.
On vacation (2001) in Rancho Mirage, CA Golfing with my dad.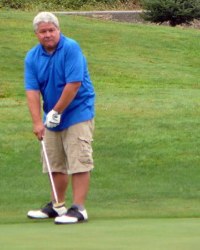 More recently, at Cross Creek GC on my 47th birthday; 08/21/09 - what a difference 8 years does to someones hair...

I currently bowl locally in a Sunday night "Reno" league at our local STARLITE Lanes. I had planned on retiring for the season but decided to try this Sunday league. Seems that no one has wanted to shell out $20/week for the "Reno" aspect of the league, so it has just become a "Sunday Mixed," league for now.

I had been working with my scenic photography hoping to create a home based business providing prints on canvas for sale, but unfortunately didn't have the capital to maintain the product as well as promote it. I haven't given up on it quite yet. Hoping to be able to upgrade my camera equipment and improve on my photography.

This web page, is also a hobby. A creative outlet.