Scott L Praegitzer
|
home


Photography


09/25/09
In February 09 I registered a DBA called Faux Art Creations in the hopes of developing my scenic photography into a home based business. My plan was to take selected images and render them through Adobe Photoshop® using various artistic effects, creating the appearance of oil or watercolor painted artworks. I had many prints made on various media and finally found the look and feel I was looking for. Unfortunately, I just couldn't continue to shell out the money to print samples or even items to sell. My plan was to have a booth at the local art fair during the summer. Apparently, it just wasn't meant to be. I am hoping that at some point I can revisit this dream and make it a reality.

In my previous job as Technical Writer for Neilsen Manufacturing,Inc., I did a lot of digital photography, which I really enjoyed a lot. Although creating technical documents allowed for some degree of creativity, the subject matter (sheet metal parts) was "industrial." At work I used an older model Sony Mavica, that utilized floppy discs. In 2003 I purchased my own higher end camera (Fuji FinePix S602Zoom), and planned on taking a lot of "non-industrial" pictures to build a portfolio.
The following group of pictures were taken to test out my new 2x extender I bought. The digital camera required an adapter tube and then the actual extender. One of the by-products of the adapter tube was an actual "tube" effect (when the zoom was all the way "in" you could actually see a black ring around the outer edge, kind of like that effect they use on TV to simulate someone looking through binoculars - except with only one "ocular.") that seemed to distort some of the images.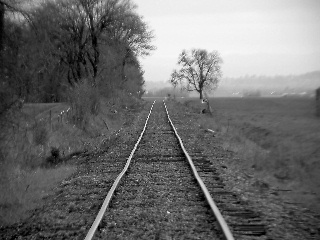 The tracks out of town.
Black & White effect added in Adobe PhotoDeluxe Home Edition 4.0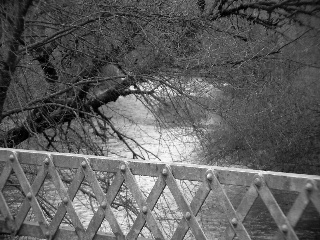 The bridge.
As previous for black & white effect.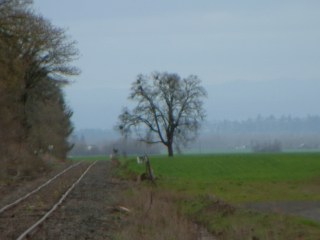 A misty day.
Note the graininess of this image. Distortion from the 2x extender.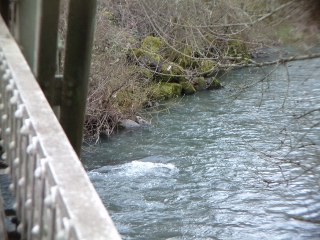 Creekside.
A nice clear picture I think.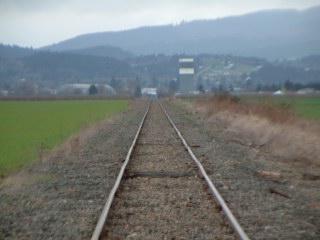 The opposite end of the tracks.
Another grainy image, but kind of cool. I am not all that happy that the $89 2x adapter is causing distortion.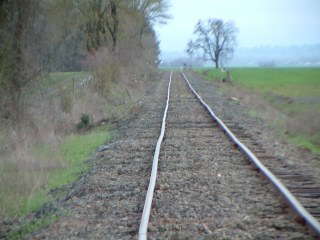 Where do they lead?
I like the "off center" focus from the tracks on this one.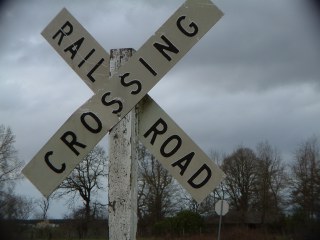 Don't cross the tracks.
Again, was testing the camera and how much the 2x actually added to the zoom capability.
The old tree near the tracks.
A dark, dreary image - just like that day that I took it. Sets the mood rather nicely.
Click the camera in the left frame to go to
My Digital Photography for more photos.